Step 2
After you download your Twitter archive (from twitter.com/settings/account and you can load it directly as a zip file into Twitter Archive Eraser.
You can select which period of time you want to delete tweets from (grouped by month).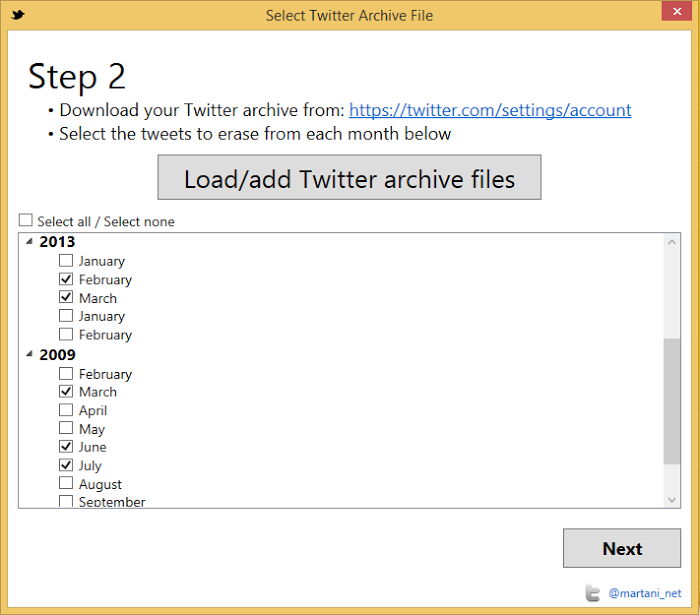 Step 3
Once you have selected the months, you are now presented with all the tweets in this period of time. By default, all the tweets are marked for deletion, if you want to keep any specific tweets, just uncheck them as shown in the following picture.
You can use regular expressions to filter specific tweets to check/uncheck them (you can click the "Erase?" checkbox on top to check uncheck all the filtered tweets).
You can also choose the degree of parallelism you want: that is how many tweets Twitter Archive Eraser deletes at a time: the more the better. Notice however that this parameter is limited by your network speed.
You can pause/resume the deletion process and check/uncheck tweets in between.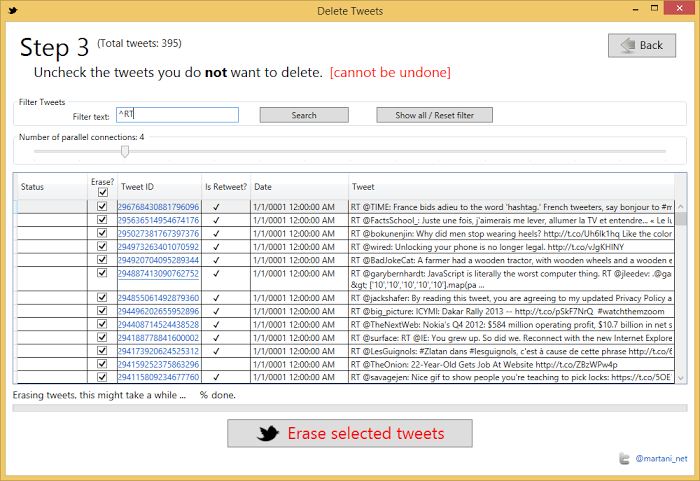 Common filtering expressions
Use the following filtering expressions to search for:
Retweets: ^RT
Replies: ^@\w+
Reply to user martani_net: ^@martani_net
Mentions: @\w+
Mentions of user martnai_net: @martani_net This will possibly return Retweets also
Tweets containing a number with 4 digits or more: \d{4}
Tweets containing the word 'hello': hello