Best tips to save battery life on any MacBook, so that you can know how to maximise the battery life of your laptop!
Avoid keeping your MacBook in high ambient temperature environments (eg. a hot car).
Use a high-quality charger, eg. the stock MacBook charger or from a good brand.
It's fine to leave MacBook attached to the charger 90% of the time.
Disconnect it occasionally and use the battery (eg. disconnect overnight, or use the battery until it drains to 10-15% (or 20-25%) every now and then.)
If you mainly use battery power, charge it in bursts (if you can) to keep the battery percentage between 20% and 80% (or the sweet spot to keep your battery charged is at between 25% and 85%).
Although the battery might say it's at "100%", in reality it's actualy less than that. Apple designed the batteries this way with a "soft limit" to maximise longevity.
Even if you fail to follow any of these guidlines, you probably won't experience a significant drop in battrey health due to modern li-ion batteries and software (with the exception of head and using a good charger).
Never discharge the battery below 10%
To take care of your devices with battery it is highly recommended that you recharge them when they are at 15-20% (or 20-25%) capacity. And of course, nothing happens if one day you completely drain the battery. The problem occurs when it is a repetitive action.
Store it half-charged when you store it long term
Do not fully charge or fully discharge your device's battery — charge it to around 50%. If you store a device when its battery is fully discharged, the battery could fall into a deep discharge state, which renders it incapable of holding a charge. Conversely, if you store it fully charged for an extended period of time, the battery may lose some capacity, leading to shorter battery life.
Configure Mac settings to optimise battery health
Auto appearance
Apple menu  > System Settings > Appearance > Click "Auto"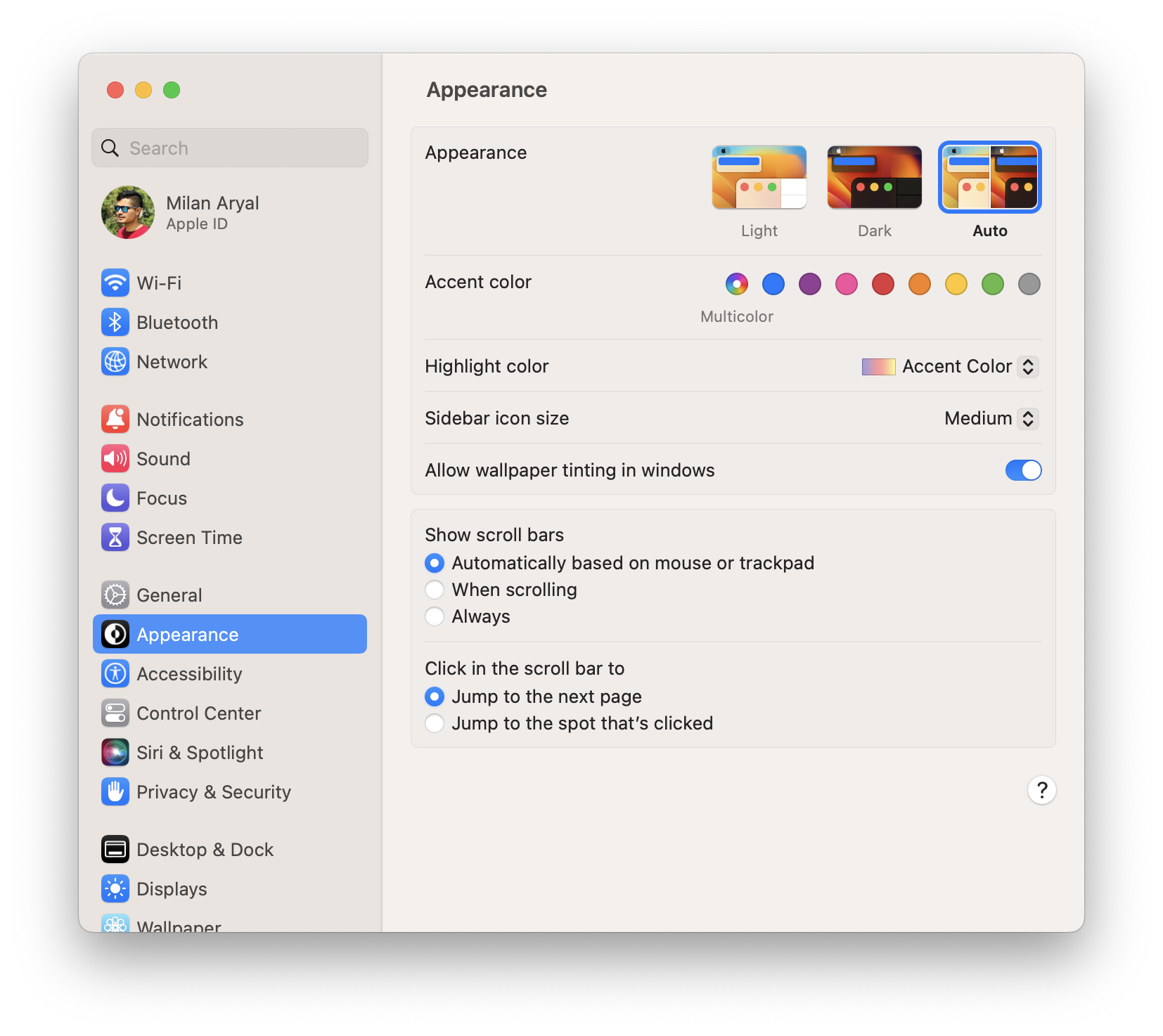 Show battery percentage on control center
Apple menu  > System Settings > Control Center > Turn On "Show Percentage"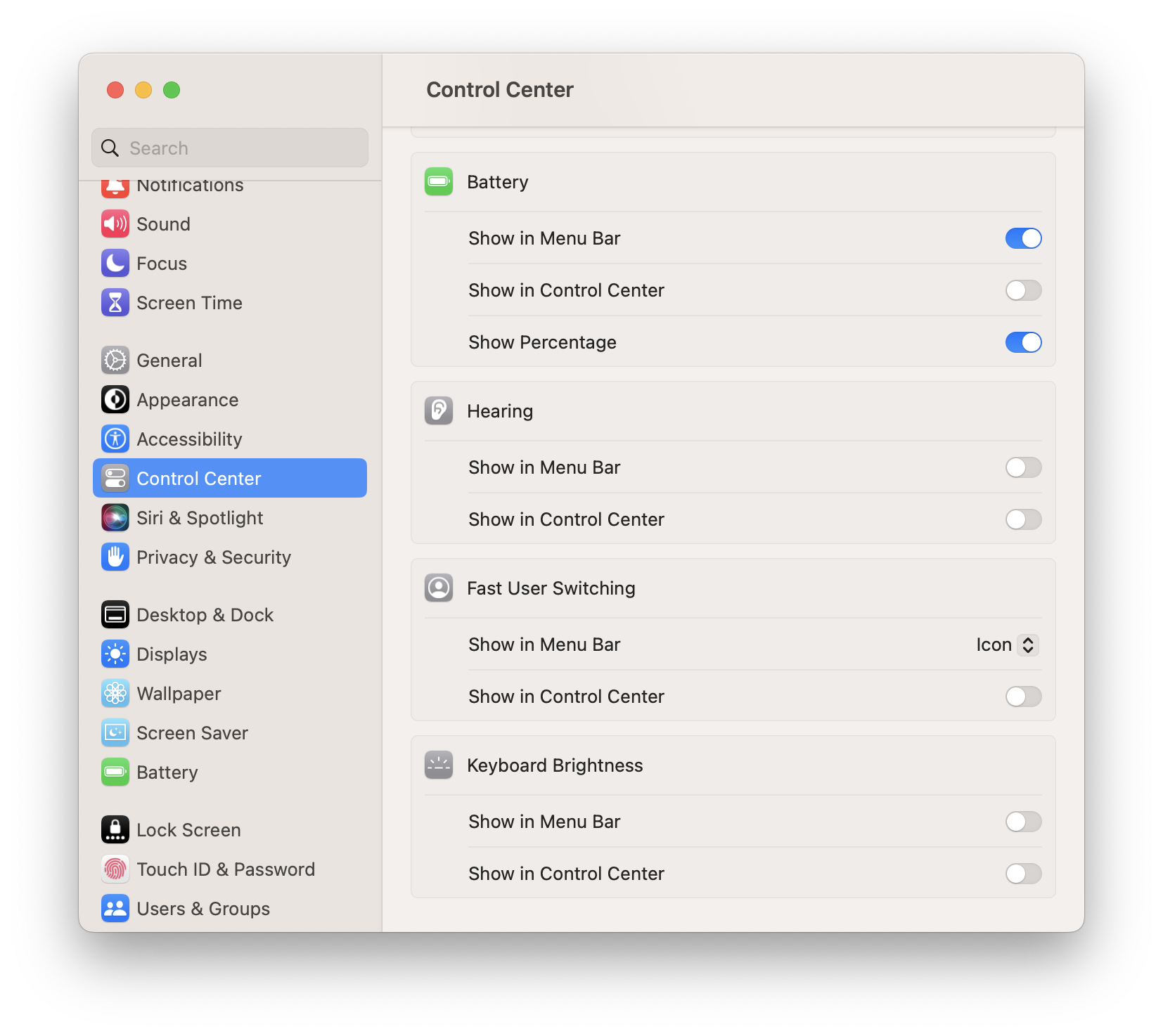 Turn off location servies access
Apple menu  > System Settings > Privacy & Security > Location Services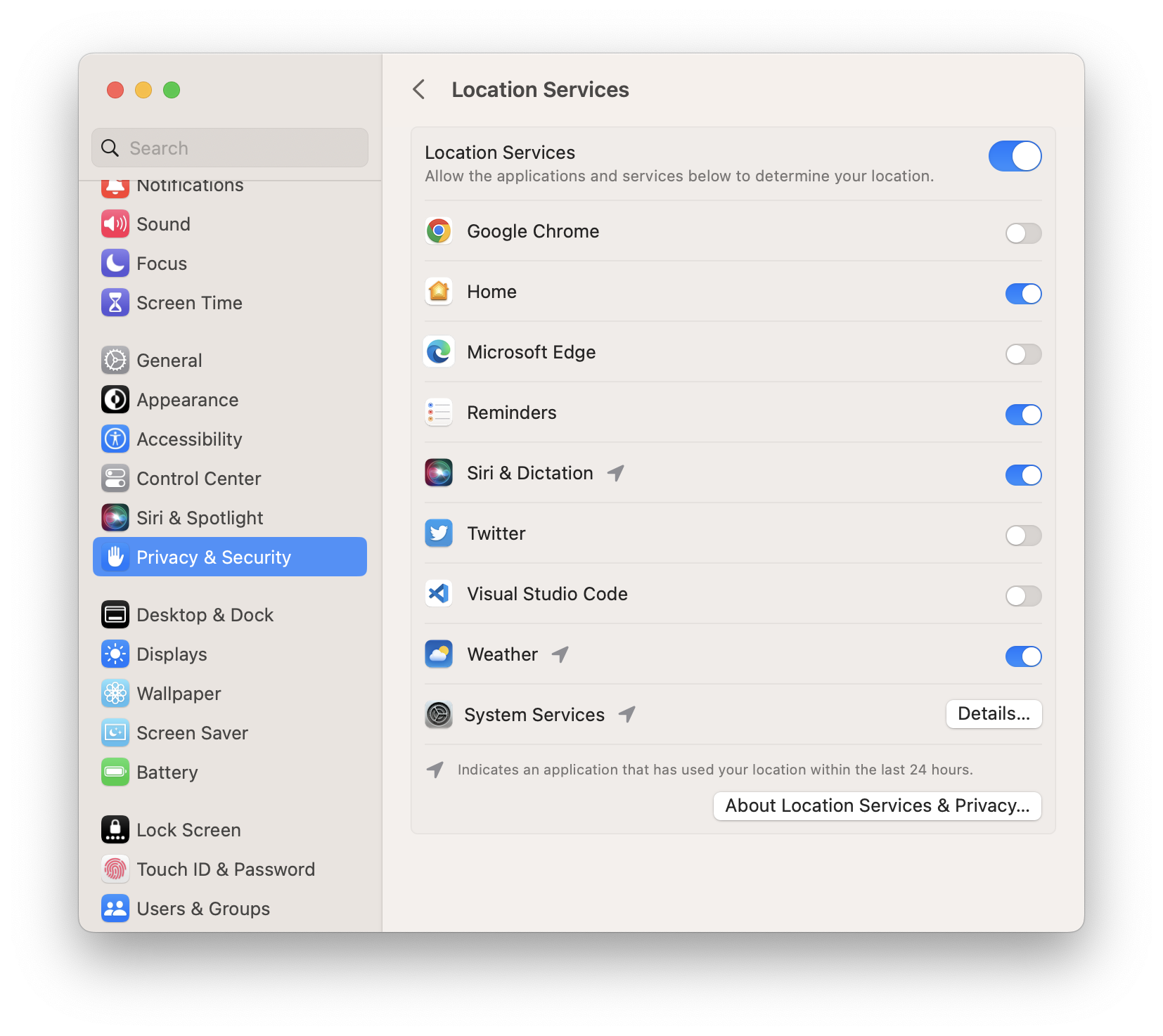 Turn off share mac analytics
Apple menu  > System Settings > Privacy & Security > Analytics & Improvements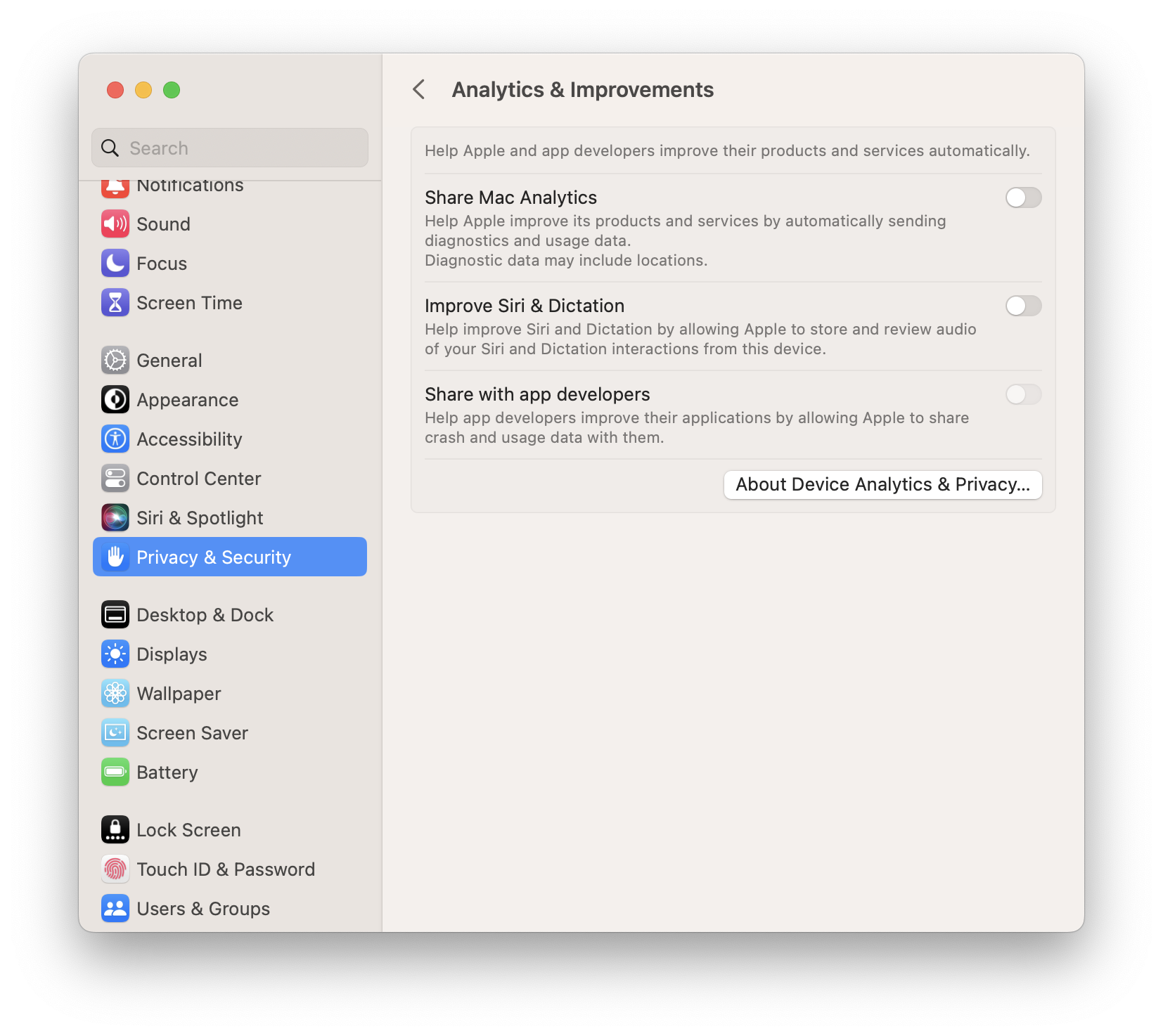 Turn off automatically adjust brightness
Apple menu  > System Settings > Display > Maintain Low Brightness
Apple menu  > System Settings > Display > Turn Off "Automatically adjust brightness"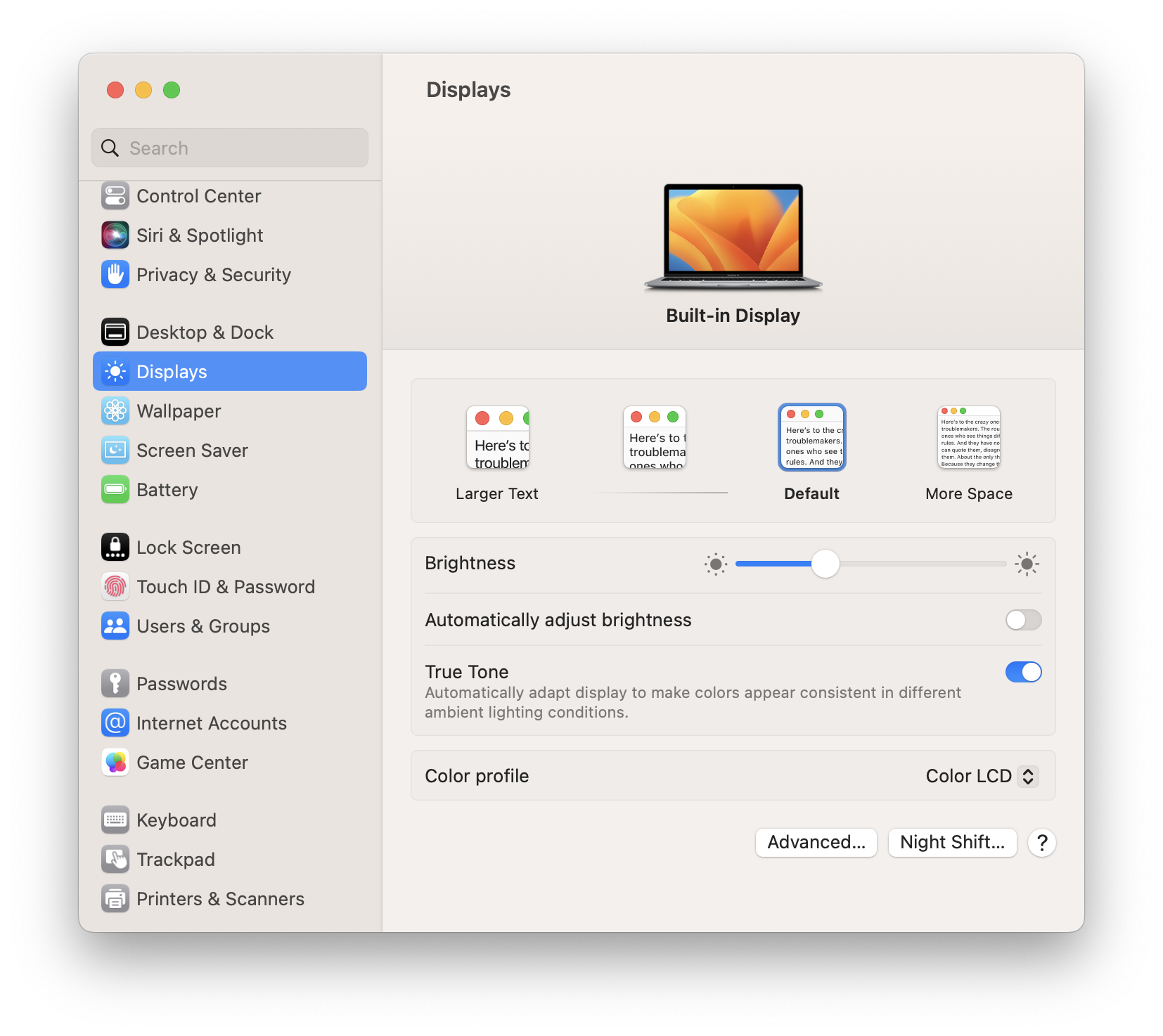 Customise night shift
Apple menu  > System Settings > Display > Night Shift…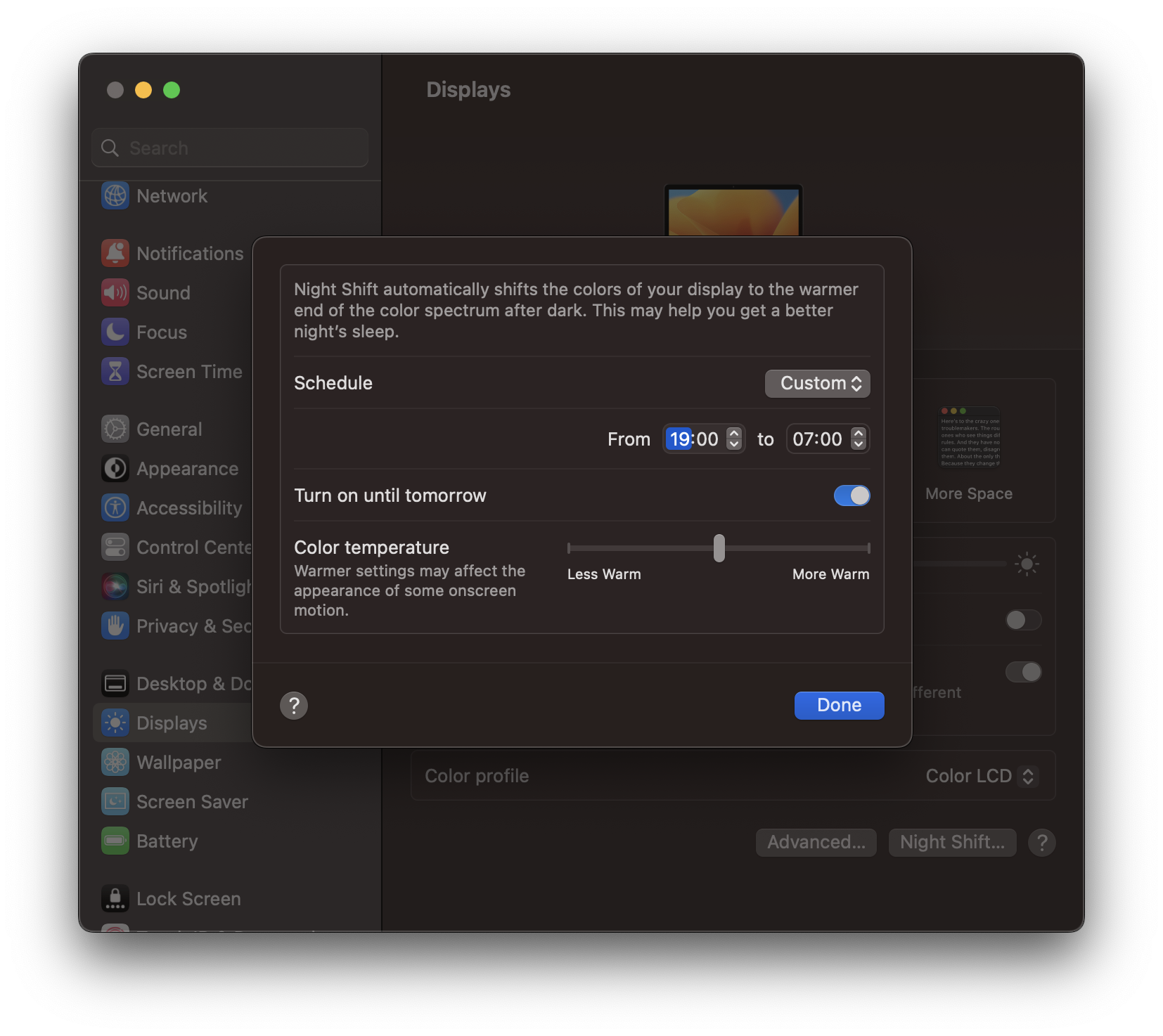 Turn on low power mode
Apple menu  > System Settings > Battery > Turn On "Low Power Mode - Only on Battery"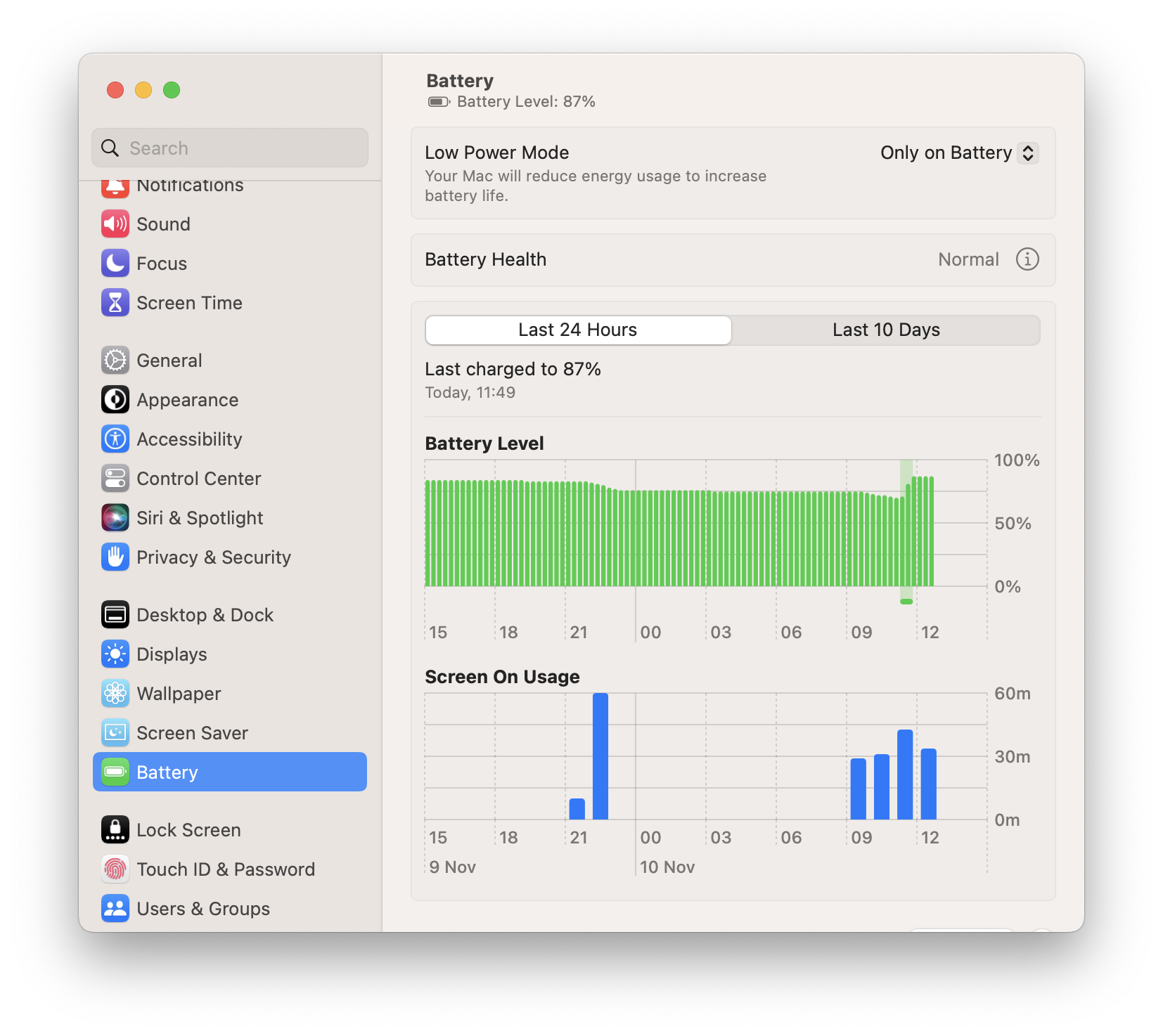 Turn on optimised battery charging
Apple menu  > System Settings > Battery > Battery Health (Click info symbol ℹ️) > Turn On "Optimized Battery Charging"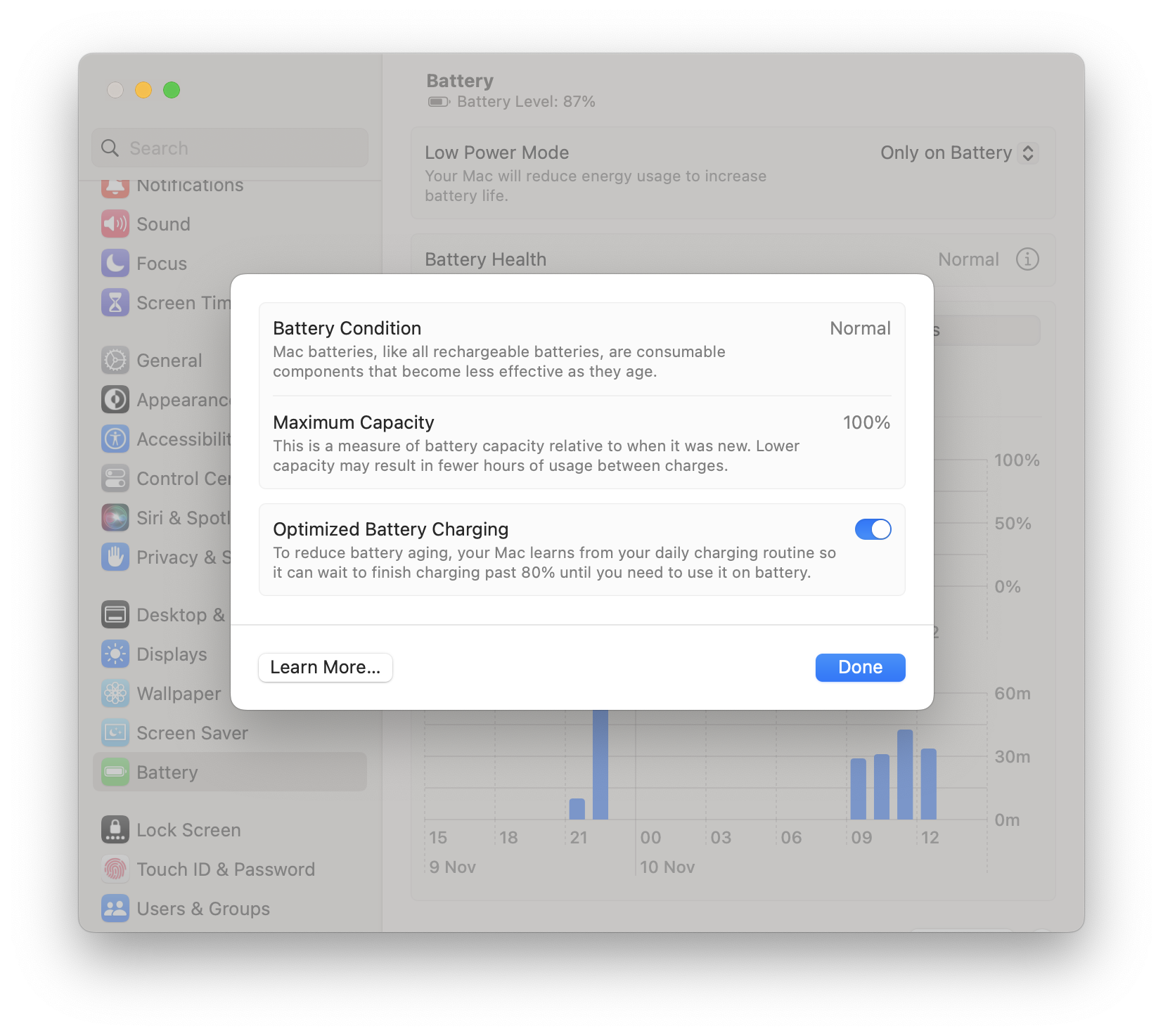 Turn on optimise video streaming while on battery
Apple menu  > System Settings > Battery > Options > Turn On "Optimize video streaming while on battery"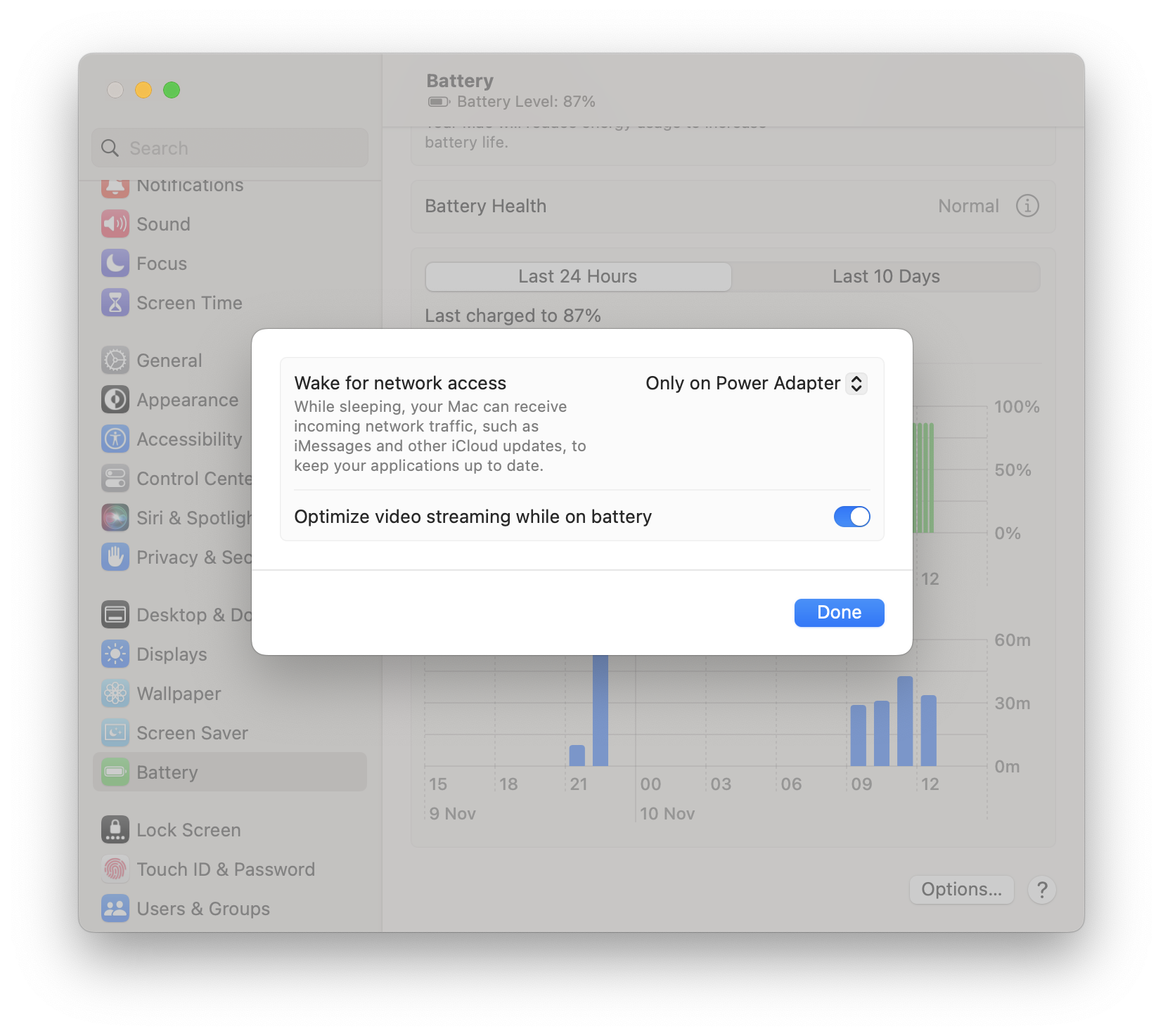 Turn off keyboard brightness
Apple menu  > System Settings > Keyboard > Turn Off "Adjust keyboard brightness in low light"
Apple menu  > System Settings > Keyboard > Maintain low keyboard brighness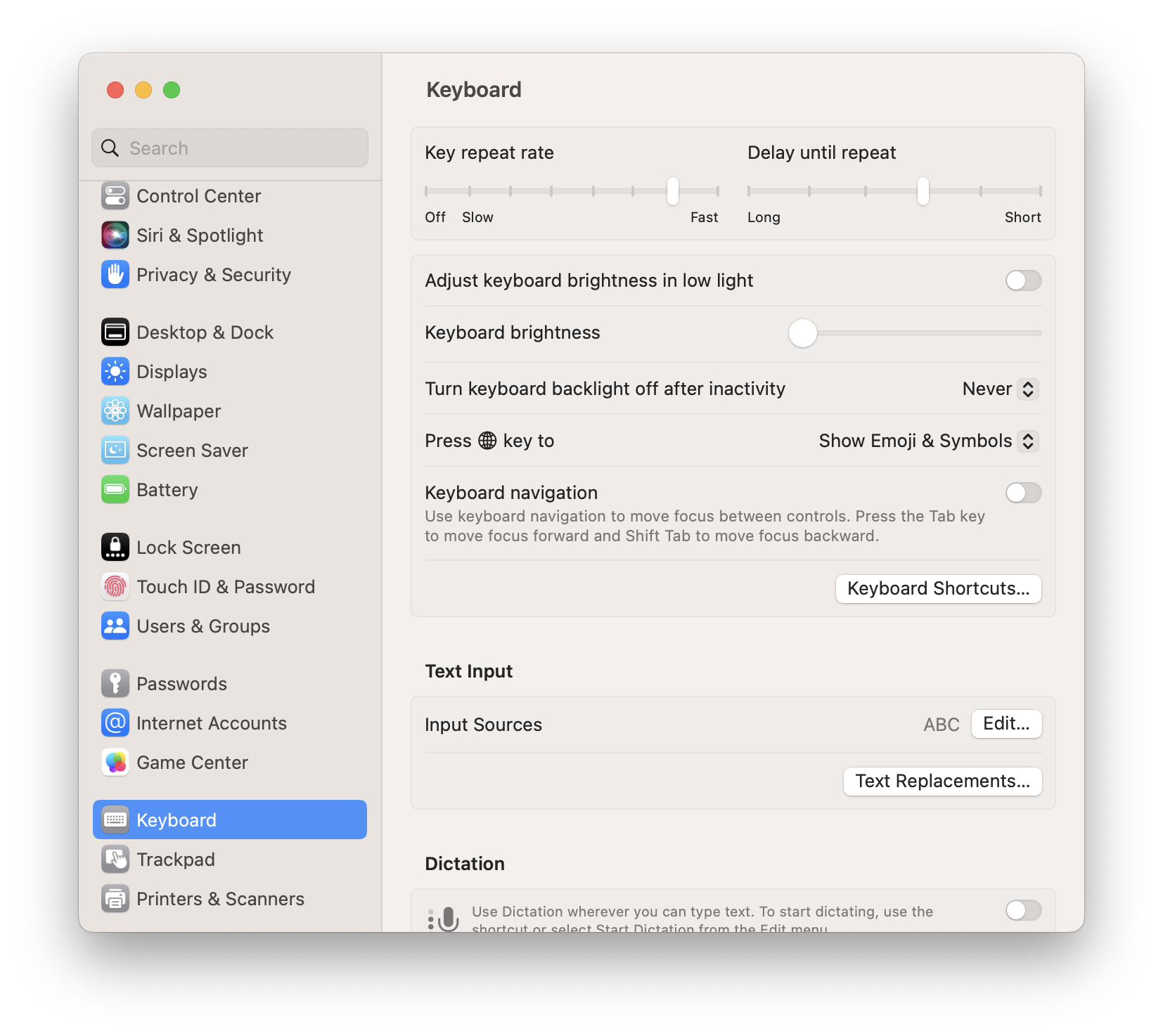 Resources
Screenshots from macOS Ventura Version 13